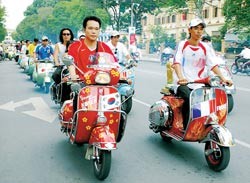 Members of the club parade through Ho Chi Minh City's streets
On June 8, the members of Ho Chi Minh City Old Vespa Club showed their love for soccer with a march along the streets near Notre Dame Cathedral.
Thirty-two Vespas were decorated with flags and symbols of the football teams attending World Cup 2006. The members wore clothes and hats of football teams, which was really an impressive sight.
Those scooters traveled around the city's center areas such as Notre Dame Cathedral and the streets of Le Duan, Ton Duc Thang and Dong Khoi. The march made city dwellers feel more excited with the upcoming opening ceremony of World Cup 2006.