With Spain and Ukraine expected to dominate proceedings, Saudi Arabia and Tunisia will kick off in Munich on June 14, hoping to prove that Group H won't be a mere two-horse race.
Loser of the match will possibly be knocked out of the tournament after its next match, said a pundit about the match between Tunisia and Saudi Arabia.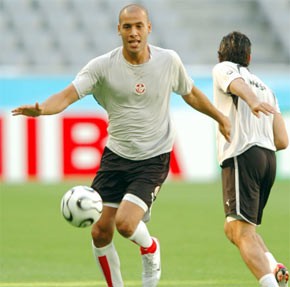 Tunisian defender Alaeddine Yahia (L) vies with his teammate forward Ziad Jaziri during a training session at Arena Aliance Stadium in Munchen on June 13.
Tunisia Coach Roger Lemerre is yet to win a match at the World Cup having been in charge of France in 2002. The French team lost to Senegal and Denmark and drew with Uruguay. Obviously, this has been a bitter memory in his coaching career although he won both the European championship with France in 2000 and the African Cup of Nations with Tunisia.
Saudi Arabia, nicknamed "Brazilians of the Orient" or "the Sons of the Desert", is making its fourth consecutive FIFA World Cup finals appearance since 1994. It has been eight years since Saudi Arabia showed its best performance as reaching round two of a World Cup tournament (after beating Morocco and Belgium in the USA). In its two latest World Cups, Saudi Arabia was knocked out right from first rounds.
Meanwhile, Tunisia is at their fourth World Cup. They went out in the first round group phase in all their previous three World Cup appearances.
In seven meetings it is the Tunisians who have the edge with four wins, a draw and only two defeats.
Colors for the game
Tunisia: white shirt, white shorts, white socks
Saudi Arabia: green shirt, green shorts, green socks
Referee: Mark Shield (Australia)
Probable squad
TUNISIA

SAUDI ARABIA

1. BOUMNIJEL Ali 

6. TRABELSI Hatem

15. JAIDI Radhi

3. HAGGUI Karim

18. JEMMALI David

20. NAMOUCHI Hamed

12. MNARI Jaouhar

14. CHEDLI Adel

13. BOUAZIZI Riadh

5. JAZIRI Zied

9. CHIKHAOUI Yassine

1. AL DEAYEA Mohammed

3. TUKAR Redha

13. SULIMANI Hussein

4. AL MONTASHARI Hamad

2. DOKHI Ahmed

14. KHARIRI Saud

7. AMEEN Mohammed

8. NOOR Mohammed

10. AL SHLHOUB Mohammad

9. AL JABER Sami
20. AL KAHTANI Yaser