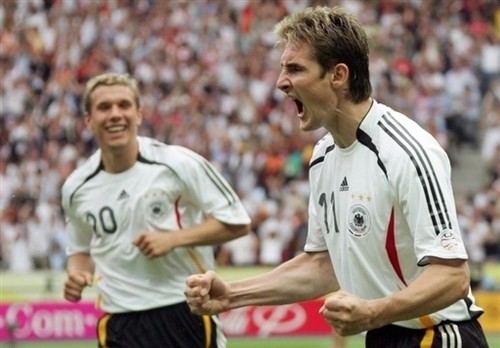 German forward Miroslav Klose
After 64 games packed with goals and non-stop action, Germany's Mirolav Klose has carried off the adidas Golden Shoe award as the top scorer at the 2006 FIFA World Cup Germany. The striker notched five goals in seven matches to take his total FIFA World Cup tally to ten.
Klose's five-goal tally is the lowest winning total since the 1962 FIFA World Cup Chile, not that it makes his achievement any less worthy. With two goals against Costa Rica, a further brace against Ecuador and a fine header in the quarter-final with Argentina, Klose moved into third place in the list of top German goalscorers at the FIFA World Cup finals.
Ronaldo, who beat Klose to the coveted award at Korea/Japan 2002, will take away another unforgettable memory from Germany 2006. His three goals took him past German striking legend Gerd Muller to move to the top of the all-time FIFA World Cup scoring charts with 15 goals.
The adidas Golden Shoe is awarded to the top scorer at the FIFA World Cup. In case of a tie, the positions are decided by the number of assists made by each player during the tournament. If two players are still tied, the one who has disputed the least number of minutes will be declared the winner. The FIFA Technical Study Group (TSG) decides which assists should count as such.