Italian Prime Minister Romano Prodi Monday awarded medals to the players of the national team squad that brought the country's fourth World Cup back from Germany.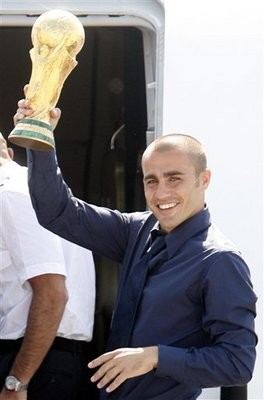 Italian national soccer team captain, Fabio Cannavaro, holds the soccer World Cup 2006 trophy
US President George W Bush plans to offer his congratulations to Italy for its World Cup victory when he meets Italian Prime Minister Romano Prodi at the G8 summit in St Petersburg later this week, the White House said Monday.

The Azzurri landed late afternoon at the military airport of Pratica di Mare and rode by coach to Palazzo Chigi, the site of Italy's government, through wings of cheering fans who continued the celebrations that began the night before.

In his speech held in the courtyard of Palazzo Chigi, Prodi could not spare a reference to the football match-fixing scandal that has rocked Italian football and may lead to the relegation Juventus, AC Milan, Fiorentina and Lazio, who all had players on the national team roster.

"Thanks for giving Italy, a country that too often tends to divide itself, a reason to share a feeling of pride and belonging," Prodi said, adding a call for a "clean up of Italian football."

After the ceremony, the squad were to ride by coach to a Circus Maximus brimming with hundreds of thousands of fans who already had gathered Sunday night at the 2,000-year-old stadium to watch on giant screens as Italy beat France 6-4 after a penalty shoot-out.

Captain Fabio Cannavaro, holding the World Cup that Italy won for the fourth time by beating France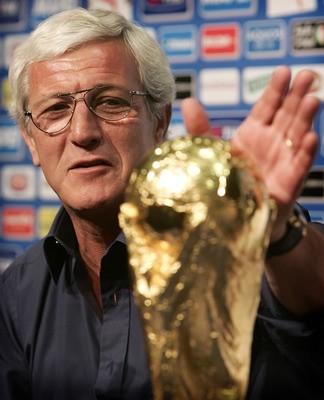 Italy's coach Marcello Lippi smiles as he looks at the World Cup trophy

after a penalty shoot-out in the final played in Berlin.

"I am very happy for celebrating my 100th cap with such a great win," Cannavaro said. "It was a great satisfaction. We saw the images on television (late Monday), we saw Italy going crazy, and we realized we did a great enterprise."

"I think that with a little more rest we will manage to savour this joy," said keeper Gianluigi Buffon. "We have not yet understood the importance of what we did. This was a group who wanted to show that they were hard to beat."
(Sources: BKP, FIFA)