Group A rivals Ecuador and Poland go head-to-head in Gelsenkirchen on the opening day of the 2006 FIFA World Cup Germany. Poland coach Pawel Janas is expected to copy the 4-5-1 system that took Poland to third place the last time Germany hosted the World Cup in 1974.
Under remarkable influence of former coach Kazimierz Gorski, who favored a system of five half-backs, Poland coach Pawel Janas decided to use 4-5-1 system.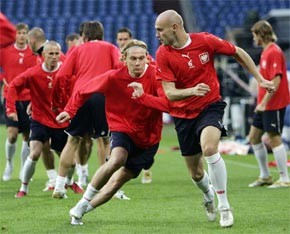 Polish Defender Mariusz Jop (R) and Midfielder Sebastian Mila run during a training session at the Auf Schalke Arena in Gelsenkirshe one day before the match.
Mr. Janas deployed the system with considerable success in the 1-0 friendly win over Croatia on June 4.
Playing in their second straight finals, the Ecuadorians and their excited throng of fans, who created a festival atmosphere outside the Schalke stadium, will be keen to avoid going home again in the first round.
Winner of this match will possibly be the owner of Group A's second ticket for the next rounds.
Colors for the game
Poland: white shirt, red shorts, white socks
Ecuador: yellow shirt, blue shorts, red socks
Referee: Kamikawa Toru (Japan)
Probable Squad
POL

ECU

1. BORUC Artur
6. BAK Jacek
2. JOP Mariusz
14. ZEWLAKOW Michal
4. BASZCZYNSKI Marcin
8. KRZYNOWEK Jacek
16. RADOMSKI Arkadiusz
10. SZYMKOWIAK Miroslav
7. SOBOLEWSKI Radoslaw
15. SMOLAREK Ebi
9. ZURAWSKI Maciej

12. MORA Cristian

4. DE LA CRUZ Ulises

3. HURTADO Ivan

17. ESPINOZA Giovanny

18. REASCO Neicer

8. MENDEZ Edison

20. TENORIO Edwin

14. CASTILLO Segundo

16. VALENCIA Luis

11. DELGADO Agustin

21. TENORIO Carlos or 10. KAVIEDES Ivan