One of the most fancied teams in Germany, England will open their FIFA World Cup campaign against Group B rivals Parauay on 10 June.
Striker Wayne Rooney had a successful scan on his broken foot on Wednesday and despite a return to full training on Thursday, he will not in the game. However, this will not cause worry among the England fans when up front the in-form Peter Crouch offers a viable option in Wayne Rooney's absence.
Also, Paraguay's coach Anibal Ruiz recognized Crouch as a dangerous "striker" when he scored four goals in two recent games, saying that they would face difficulties when dealing with the towering Crouch.
England boasts a real threat through David Beckham's set-pieces and, if selected Michael Owen, and Peter Crouch. They are men the South Americans should keep a particularly close eye on.
Gerrard's problem was clearly a cause of concern for England because he quickly broke away from the main group after an initial light jogging. However, he will come back to join the first game of England in World Cup 2006. The English people is hoping that left-wing player Joe Cole will till the void of a left winger England desperately needs in their big games.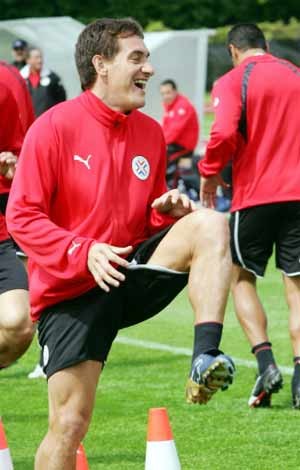 Paraguayan defense Carlos Gamarra stretches during a training session, June 8 in Oberhaching. Paraguay makes their debut in the World Cup 2006 on June 10th in Frankfurt, against England.
Centre-back John Terry and half-back Rio Ferdinand are currently the best choices of Coach Sven-Goran Eriksson. In both two wings, he will need the experienced defenders Gary Neville and Ashley Cole despite other young players showed their good performances recently.
The teams have met twice before and on both occasions England won comfortably. Goals from Gary Lineker (2) and Peter Beardsley secured a 3-0 win over the South Americans in the second round of the 1986 FIFA World Cup, while Owen was among the scorers as England enjoyed an even more handsome 4-0 friendly win in April 2002.
Paraguay striker Roque Santa Cruz has declared himself fit to play after recovering from a knee injury, which caused Anibal Ruiz a headache.
However, Paraguay says that they are feeling very relaxed before the game while England is said considering it a must to win tonight.
Colors for the game
England: white shirt, navy blue shorts, white socks
Paraguay: blue shirt, blue shorts, blue socks
Probable Squad
ENGLAND

PARAGUAY

1. ROBINSON Paul

2. NEVILLE Gary




5. FERDINAND Rio

6. TERRY John

3. COLE Ashley

7. BECKHAM David

8. LAMPARD Frank

4. GERRARD Steven

11. COLE Joe

10. OWEN Michael

21. CROUCH Peter

1. VILLAR Justo

5. CACERES Julio Cesar

21. CANIZA Denis

3. TOLEDO Delio

16. RIVEROS Cristian

10. ACUNA Roberto

13. PAREDES Carlos

6. BONET Carlos

18. VALDEZ Nelson

23. CUEVAS Nelson
11. GAVILAN Diego